We believe that the land is a great asset we have been given.
It is our responsiblity to protect this asset through proper planning and conservation. We work with our clients to promote the best use and design of a site.

We are experienced in an array of projects, ranging from urban infill with .10 acre lots to boundary surveys of 100 acre tracts. We collaborate with the customer, planning officials, architects and engineers to determine what services are necessary for each individual project.
What we do:
Land Surveying provides a diverse offering of services. Some services are tailored to the residential property owner, while other services are more technically involved and used by engineers, architects and developers.
Click here to review the descriptions of the surveys we provide.

We hope you will consider Blackrock your choice for your next project.
We offer estimates at no charge and are proud to provide excellent customer service.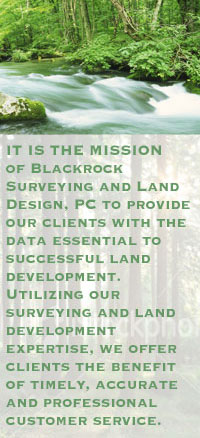 P.O. Box 8302, Asheville NC 28814
828.225.4341 • 828.225.4342 fax