Who we are:
We are a medium sized Land Surveying company based in Western North Carolina and are locally owned and operated by Rob and Jamie Brady.
Robert K. Brady, Jr., PLS
Rob is part owner and President of Blackrock Surveying and Land Design, PC. A graduate of UNC-Chapel Hill and a loyal Tarheel fan, Rob has been a licensed surveyor for almost 10 years.

Rob began his surveying career at the age of fifteen where he learned the basics of Surveying from his uncles, Leo and Eddie Boswell. During the summer and winter vacations he worked side by side with his family learning the principles and methods of Land Surveying.

After college Rob continued his surveying career as a surveying technician for the University of North Carolina. His time there was utilized performing a campus wide topographic and site survey for a GIS base map. Upon receiving his Surveyor in Training certification, he returned to work at Boswell Surveyors. Here he honed his surveying skills specializing in boundary retracements, subdivision design and construction layouts. During his time there he earned his license as a Professional Land Surveyor.

Rob moved to Western North Carolina in 2004 to work as a surveying department manager for a surveying and engineering firm. After a couple years growing familiar with surveying in the mountains, Rob and Jamie embarked on the adventure of building a company together. Their shared value given to customer service has proven to be a cornerstone for growing their business.

Rob understands the responsibilities placed upon a Land Surveyor. Precision and accuracy are hallmarks of the profession. Just as important is respect for the land. Because of this Rob encourages smart growth solutions for the future of Western North Carolina.
Jamie Brady
Jamie Brady got her start in surveying as she and Rob decided to embark on the adventure of building a business together. After 12 years in the exciting and fast paced world of marketing and advertising, the high heels are gone as well as the suits (well, maybe one now and then). She and Rob worked as a Surveying crew for the first six months of the company's conception. Climbing mountains, hauling equipment up the hills and defining boundaries were their number one priority. Still working as a team, Jamie now oversees the business side of the company as Rob manages the technical. Jamie brings years of account management skills to the table for Blackrock Surveying. Her experience in marketing and business help ensure that Blackrock has a stable base to work from.
Blue Brady
Blue began his career here at Blackrock in May 2007. His official title is Vice President – Sniffing Division. Blue has an amazing ability to traverse an undeveloped site to determine the best spot on which to place a client's dream home. Proximity to plenty of trees is his number one goal and access to plenty of cool water runs a close second. Blue also manages our Ball Chasing Division where he has made strides towards providing extra break time for throwing and catching. Blue is our official greeter of clients and goes the extra mile to make every visitor to Blackrock Surveying feel welcome.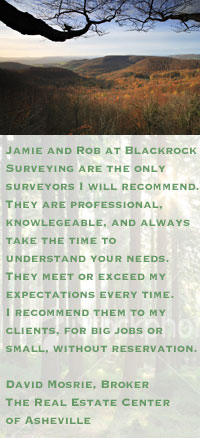 P.O. Box 8302, Asheville NC 28814
828.225.4341 • 828.225.4342 fax